Welcome back to Funny Pets and Weird Pets. We are glad to have you back. I have a very great creature for you today, the Civet.
The Civet




I'm going to start of with this. Who likes coffee?? Kopi Luwak, is coffee that is prepared using coffee cherries that have been eaten and partially digested by the Asian palm civet, then harvested from its fecal matter. The civets digest the flesh of the coffee cherries but pass the beans inside, leaving their stomach enzymes to go to work on the beans, which adds to the coffee's prized aroma and flavor. Only around 1,000 pounds (450 kg) of civet coffee make it to the market each year, and 1 pound (0.45 kg) can cost up to $600 in some parts of the world and about $100 a cup in others.
Sounds...tasty?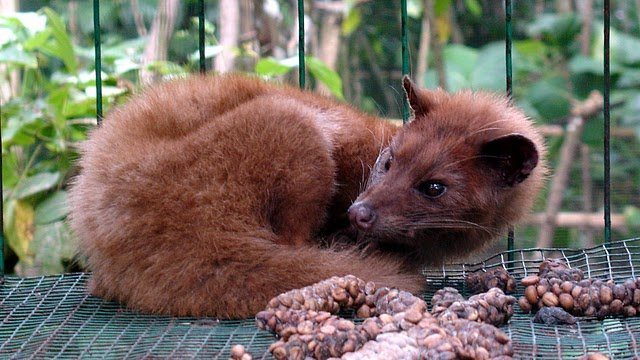 Can you see the poo?
A civet is a small, lithe-bodied, mostly nocturnal mammal native to tropical Asia and Africa, especially the tropical forests. The term civet applies to over a dozen different mammal species. Most of the species diversity is found in southeast Asia. The best-known civet species is the African Civet, Civettictis civetta, which historically has been the main species from which was obtained a musky scent used in perfumery. The word civet may also refer to the distinctive musky scent produced by the animals.
Civets are also called "toddycats" in English.
Asian Palm Civet
Hand modeling
I like its fur
Civets have a broadly cat-like general appearance, though the muzzle is extended and often pointed, rather like an otter or a mongoose. They range in length from about 17 to 28 in (43 to 71 cm) (excluding their long tails) and in weight from about 3 to 10 lb (1.4 to 4.5 kg).

The civet produces a musk (also called civet) highly valued as a fragrance and stabilizing agent for perfume. Both male and female civets produce the strong-smelling secretion, which is produced by the civet's perineal glands. It is harvested by either killing the animal and removing the glands, or by scraping the secretions from the glands of a live animal. The latter is the preferred method today.